12 trees and 2000sf of landscaping missing just out my windows at the Jimmy Johns. Multiply that times the dozens of other larger business parking lots missing trees (due to Planning's cheating), and Everett has become near treeless. Parking lots facing city streets are required to have 15' of trees and shrubs. Look at QFC, Safeway, Jack-in-the-box, Taco Time, KFC, Taco Bell, liquor stores, coffee stands,...look up and down Broadway and Evergreen Way: they look like concrete junk yards: all have barely 5', leaving the parking lot eyesore. More trees and shrubs are also required IN a parking lot. There are none, all due to Planning and developers cheating. And even the Mayor doesn't have the guts to fire the crooks in planning and give us back our Tree City. All the City would have to do is order the businesses to meet landscaping requirements. That wouldn't cost the city anything.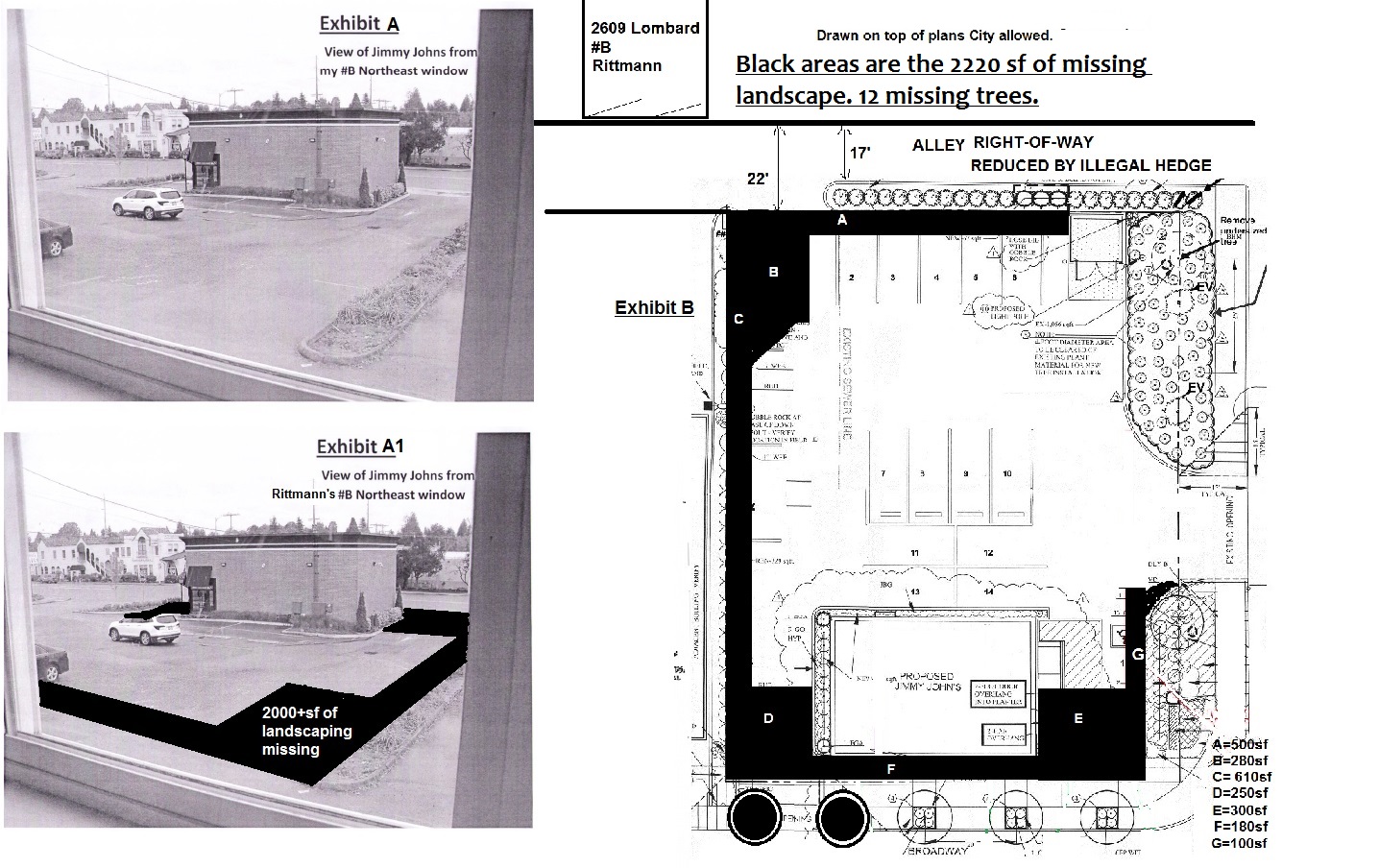 Everett: -Tree City- without the trees

PARKING LOT LANDSCAPING FACING STREETS = 10' on the business' private property and 5' on city property. MOST BUSINESSES HAVE ZERO ON THEIR OWN PROPERTY


EMC 19.35.080 A. (quote) Parking areas, automobile sales lots and other outdoor display areas which front on a street right-of-way shall provide a ten-foot-wide landscaped area along the entire street frontage planted to Type III standards, except for driveways and pedestrian paths. IN ADDITION, all public right-of-way between the sidewalk and the property line must be incorporated into the abutting Type III landscaping. All required trees shall be located on private property. (end of EMC quote)

That is 10 feet of landscaping required on business private property and five feet on city land, totaling fifteen feet of landscaping required to screen parking lots.

MORE LANDSCAPING REQUIRED: EMC 19.35.080 B. The following amounts of landscaping shall be provided in the internal area of parking lots EXCLUSIVE of the landscaping required to be provided along street frontages and along interior lot lines by subsection A of this section, and EXCLUSIVE of street trees required in specific areas of the city such as in the BMU, E-1, MUO, ULI, UM and UR zones.
Treeless "Tree City" Everett:
Everett still calls itself "Tree City". "Tree City" was on signs entering Everett. But, where are the trees?? Many buildings go up, but landscaping seems sparse. It's no accident: For decades, a few bad apples in Planning have let businesses break most landscape laws: giving away community rights, like it's a gift from them personally. It's 100% illegal: Our "Tree City" is treeless - barren from city staff cheating. Just look up and down concrete Broadway and Evergreen Ave : near treeless! Just one cheat example, all parking lots facing streets are required to have 15' of screening landscape. Most barely have 5. Safeway, QFC's mini-mall, Walgreens, Jimmy Johns, Starbucks,gas stations,...all got to cheat at our expense. That law has been in place for 40 years! Staff, even legal thought, once the cheat happened, we couldn't make them fix it. But that is not what city law says! Law states, "No permit presuming to give authority to violate or cancel the provision of this Code shall be valid". All those business have invalid permits! A few bad apples have illegally let businesses rape Everett into a junk yard.

Take the new Jimmy Johns next to ME: 2602 Broadway: 2220sf of required landscaping missing!-over 12 trees missing and tons of shrubs. To conceal their cheats, legal even got a fake Examiner to stop Jimmy Johns from fixing violations. Insanely illegal! That's just how deep the cheating is. More violators include Jack-in-the-Box, KFC, Taco Bell, 37th St complex, McDonalds... Noise, smell, setbacks, handicap access- planning staff have let big business, "cheat however they want". And very year the cheats get worse, tree-robbing our city blind. Insanity! Everett deserves better.

We CAN get our tree city back. It would only take the Mayor and Council ordering Director to Letter every cheating business to meet city laws, plus INDEPENDENT inspectors. Right now, cheating City staff get to decide if they themselves cheated. Just firing them won't fix things. It is so bad, laws are needed to stop Staff- ingrained cheating. But nothing will get fixed unless we all stand up and say, "Give us our Tree City back"



Jimmy Johns violates about 30 laws that were required in 2015 when permitted. Planning removed Broadway approach ban in 2018, but prohibited approach stays with the 2015 JJ permit requirements. In Exhibit B, JJ violates: A = EMC 19.31A.040 B2: 5' Type III . Hedge above A violates EMC 19.31A.040B.1, " Alleys shall be paved and maintained clear of .... obstructions."; B= EMC 19.35.080 B2 ; C= EMC 35.040, Table 35-1 (5' of Type III ) D= EMC 19.31A. 040 1 (Broadway approach is specifically prohibited); D, E and G = EMC 19.31A.040B2, 15' of parking lot landscaping facing streets; and D = EMC 13.16.040 (excess approaches). Multiple other ordinances reinforce said requirements.
Tell Mayor to DO HER JOB!! Make cheating business properties comply to city laws. Mayor Franklin: 425-257-7115
cfranklin@everettwa.gov





You see Lynnwood - Marysville, Mill Creek, rich with landscape. That's cause staff follows zoning laws. In Everett, they instead have staff under-the-table skimming our city into a junk yard. And "legal" supporting them to stave off lawsuits. All this CAN be turned around. It takes public outcry.