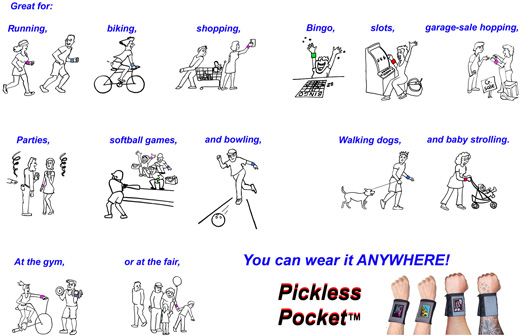 .......................................DISPLAY

Key / Cash / Card cuff
It guards some most important stuff.


That wallet is no way to lock it
That's why I wear my Pickless Pocket™.

Breathable mesh; adjustable to any width;

Old-fashioned wallets are bulky, inconvenient, and not designed for our modern credit card lifestyles.
you always need your wallet, but on the go: your back pocket or purse, not always so safe and convenient, like

Introducing the patented Pickless Pocket! Breathable mesh conveniently holds cards, keys, cash, . . .
fits any size wrist and near any amount of stuff. Locks on with both rip tape AND hooks


Weighs 1/10 of a woman's wallet, yet can holdup to 12 cards in the center pocket.
Men: never trail of coins cause wallet has no place.



Great for running, biking, shopping,
Bingo, slots, garage-sale hopping,

Parties, softball games, and bowling,
Walking dogs, and baby strolling.

At the gym, or at the fair
You can wear it ANYWHERE!

©JVR Company 2010. All rights reserved.